McGill Restoration Success Cycle: See the Inner Workings of Our Commercial Restoration Processes
At McGill Restoration, we are continually growing our list of award-winning commercial restoration projects (read the case studies here). Our success sits on the shoulders of the hard-working team that drives for perfection. 
Our crew is dedicated and they work hard every day. Customers can even nominate their crew members for living out our values and performing at a high level.
Success doesn't come easy. We've spent years refining our restoration processes that guide every project and better serve our partners.
How We Defined the Success Cycle
In the early days, with a much smaller team, it was easy to manage standard processes in our heads. Everyone of course had their own spin on processes and unique management styles, but it always laddered up to the correct priorities and goals. And it was also easy to remain connected by word of mouth. 
In order to scale and maintain a sustainable business model, we wanted to make things more consistent with process documentation designed to set clear expectations for the customer and our team members.
Our teams came together, adding input from each individual member. We grabbed the most effective management styles and distilled this valuable input into the Success Cycle. The processes have since been tweaked and refined into what you see today.
There are a few major takeaways that our customers love and we believe the Success Cycle is a major reason so many of our partners remain dedicated and quick to call when restoration projects enter budget cycles.
No Sales People

– We focus on real customer needs and never upsell.

Access to Real Experts

– Estimators and project managers work with you from the initial bid to the final walk-through. You always have access to the same people who have the skills and knowledge to accurately communicate every aspect of the job. 

Dedicated Partners

– Our approach to partnership is genuine and we are always customer-centric. We build relationships through craftsmanship and proven processes.
Ultimately, the Success Cycle keeps everyone accountable and on track for commercial restoration success. As you will see below, every step has a purpose that saves time and drives results.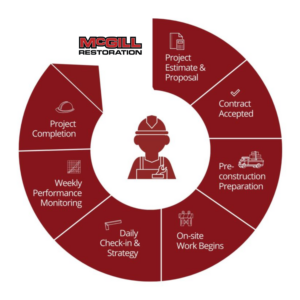 7 Elements of the Success Cycle
Our customers and decision makers (like property managers) are heavily involved with phases 1, 2, and 7 of the process. Overall involvement with the prep, site work, and check-ins can vary role by role. At a minimum, we like for everyone to know where things stand on a weekly basis and you can reach out anytime to check timelines and work together as the project progresses.
1) Project Estimate and Proposal
Our estimators conduct a deep dive to capture your project scope. They distill data into actionable elements and draft accurate estimates. This step is communication heavy as they walk the site, work with engineers, work to understand your goals and absorb every piece of information needed to deliver a thorough proposal. Every estimator is seeking solutions that provide a long-lasting solution — never a quick fix that just checks boxes to get on to the next job. That doesn't fly with the McGill Way.
2) Contract Accepted
After you sign on the dotted line, our project team springs into motion. We thoroughly review every aspect of the project and adjust the game plan as needed. Scheduling, team coordination and other internal planning are a big part of this segment. We do a walk-through with our operations team and have a smooth handoff into the execution phases.
3) Pre-Construction Prep
No rock goes unturned during preparations. At McGill Restoration, we have in-house mechanics, warehouse staff and more to resource the project. Everything from materials to equipment is scheduled, serviced and documented in the prep stage.
Our superintendent kicks off this process with a material and equipment list (MEL) and coordinates with the shop manager to ensure everything is ready for deployment. While working through preparations, the game plan is finalized, crews are selected and we are ready to kick off site work.
4) On-Site Work Begins
Materials have arrived or are arriving on-site, so crews hit the ground running. It begins with a walk-through and scoping prior to the work commencing. Then, from this point on, everything we planned is being executed in a safe and logical order.
5) Daily Check-Ins
We are goal oriented and the daily check-ins are a major reason we meet tight timelines with high-quality outcomes. Our foreman leads a team huddle each day to ensure we are being efficient, effective and safe while staying on task. We use an internal rating scale to report production each day and this keeps everyone accountable.
6) Weekly Performance Monitoring
Our project management and operations teams review progress and performance weekly. If any issues arise, they take immediate action to pivot and implement solutions. With everyone involved and engaged, our projects make consistent forward progress.
7) Project Completion
The big day arrives but we don't vanish from the job site. Our teams remove equipment, clean the site, conduct final walk-throughs, and don't close out the project until you are happy with the final results. When everything is clear, we send the final bill and you can return to business as usual.
That's it! The Success Cycle is simple, effective, and well-documented. We are here for you from start to finish. Reach out to learn more or meet with a project estimator to discuss your restoration project.