U.S. Bank Helena Parking Garage
The US Bank parking structure in downtown Helena, Montana suffered from long term water damage. Failed waterproofing membranes between the wearing and structural slabs had allowed water entry that was eroding concrete and corroding structural steel. In areas the localized corrosion was leading to section loss of the structural steel, McGill Restoration was engaged to plan restoration work across multiple annual budget cycles while timing the work for a cost-effective approach.
Helena, Montana was outside the normal range for McGill Restoration and extensive planning was necessary to cover every aspect of the job. The home base shop would not be available and that meant equipment and material planning required precision. Additionally, the work would take place during winter in a very cold environment.
McGill Restoration put together a great crew and shipped materials and equipment to the jobsite. All corroding steel was sandblasted, supplemented where required, and coated while the columns and overhead joists had full concrete restoration completed. This solved the major structural issues. 
The crew returned when the ice thawed in spring and applied a penetrating sealer to protect the top deck from moisture for the year. A new top deck with waterproofing membranes is currently scheduled for Spring 2023, stretching into a new fiscal year to better distribute costs. 
Ultimately, the parking structure life was extended by heading off corrosion and deterioration and mitigating water entry as the source of accelerated wear.
Concrete and Steel Restoration, Penetrating Sealer Installation
Let's talk about your project.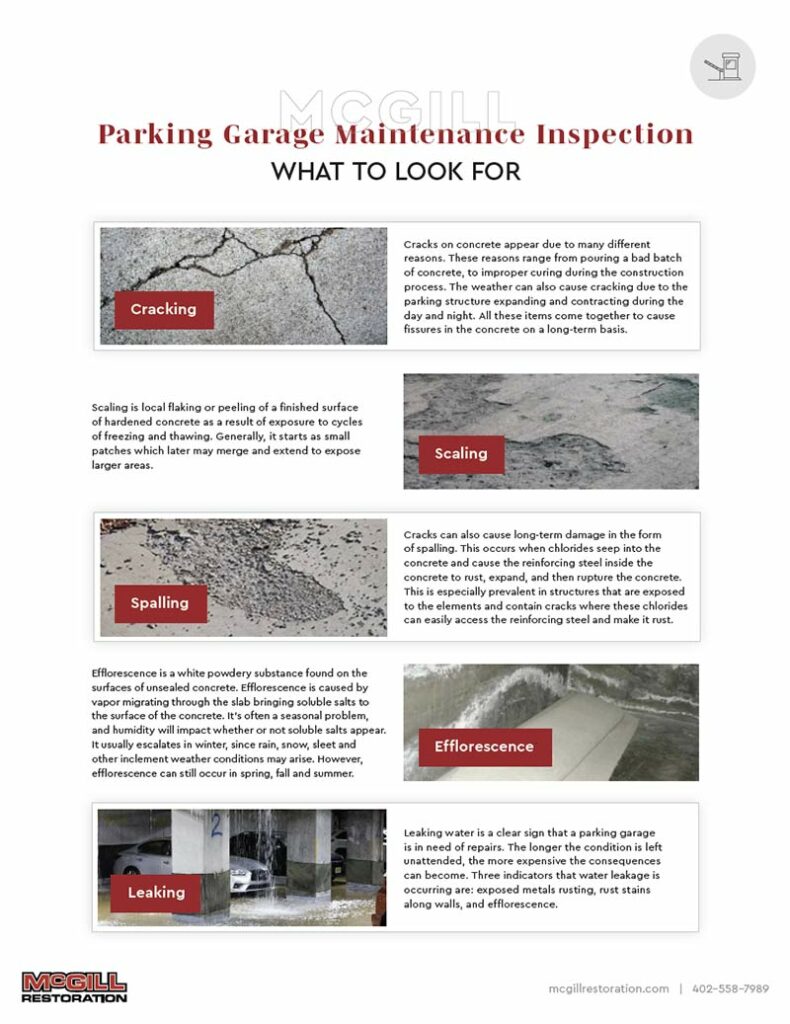 Tired of fielding complaints about your deteriorating structure but don't know where to begin to fix it?